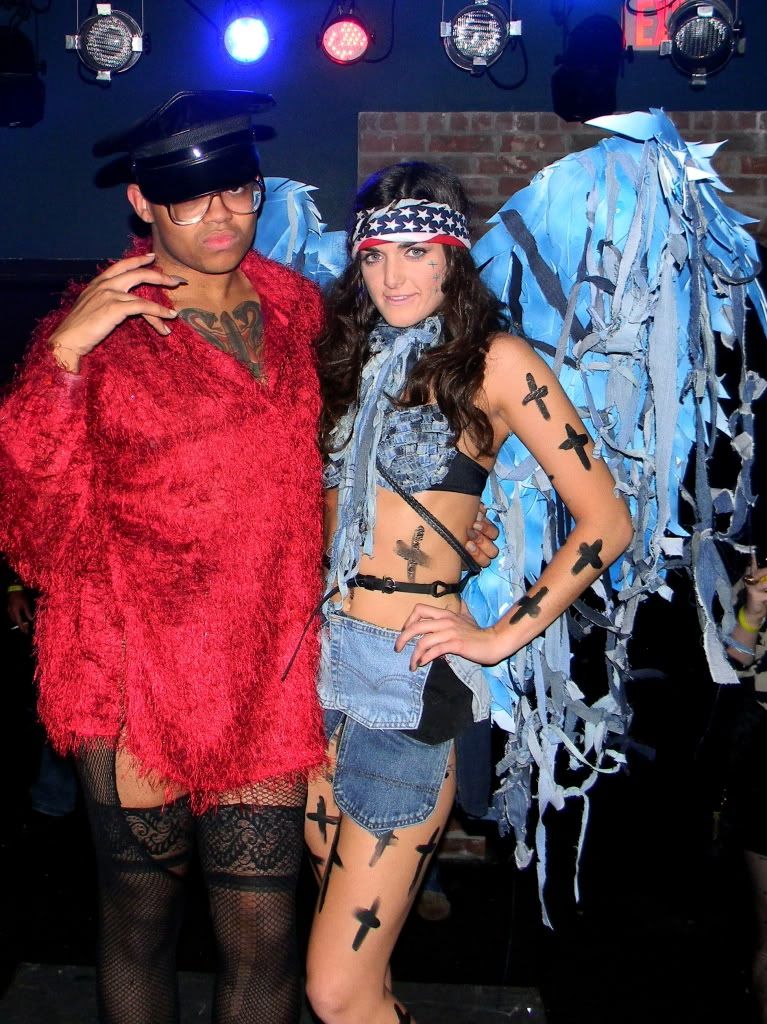 [Jordy Marilyn and model Jade Preje
an; Photographs by Nadezhda Sharnelle]
By: Dalton Primeaux
Last weekend I traveled to Baton Rouge, LA for a Lingerie Fashion Show that Benefited CARP (Capital Area Re-entry Program) in the fight against HIV. The event was held at Club Theory in the downtown area of Baton Rouge and the show featured work from Scarlett+Atticus, White rabbit and one of the most provocative designers in the region, Jordy Marilyn of Marilyn Manor.
As my friend and I walked into Club Theory, I instantly noticed how fun a lot people were dressed. This was a sure sign that Jordy Marilyn was in the building. If there is anything that Jordy Marilyn does better than designing outrageous clothing it is inspiring people to express themselves and push the boundaries of what most humans consider normal.
Jordy Marilyn is spotted dressed in an over-sized red, fluffy top and a pair of ripped stockings, mingling with all the attendees. The director of the show and friend of Marilyn, Rachel Shipman, had asked him to participate. "I had been longing to be a part of a fashion show for almost two years now, I had grown so much since my first showcase," Jordy Marilyn said. "It was the perfect timing too; coming in conjunction with the performance art pieces I did at a local gay club in Baton Rouge."
Preparing for the show, Marilyn spent countless days and sleepless nights hard at work. "My inspiration comes to me organically, I spend countless hours researching, dreaming, listening to music, watching different films, etc.," said Jordy Marilyn. He then takes what he has gathered through this process of inspiration and collaborates with his close friends and other artists. After, he focuses all his attention on constructing, designing, and sewing for his life.
Jordy Marilyn expressed that this particular show was inspired by sex and the similarities he finds in sex and horror films. When he was creating the concept behind the show, Jordy Marilyn thought back to when he was spending a lot of time with a guy who had long hair, tattoos, and an addiction to rock-and-roll and horror films. "He was so beautiful and I was drowned in the dream of being a man's Nancy, because he was my Sid vicious. He and I would get together occasionally for food, champagne, cigarettes, sex, and horror films. So when I thought of the concept for this collection I remembered that time in my life and how scary it was."
"I find horror films to be quite sexy, almost the same as porn; but I find the act of sex to be rather scary because of the growing number of HIV/AIDS causes rising in the young generation. The disease is symbolic of a serial murderer that cannot be stopped by the police, and is much faster paced that we can keep up with. So much like a horror film, we must be careful, and handle sex with precaution. Can you really trust that guy or girl you're getting into bed with; do we know that he's broke with no money? Or that he has demonic ways? Is all of that a turn on? It's all about getting to know the guy before you take off that denim."
As the lights go up and the models prepare to walk, everyone gathers around the raised runway. Jordy Marilyn's designs show last after the first two designers. His collection opened with models sporting muzzles and "greeting" the crowd with signs stating controversial phrases like "Pig + Brain Flavored Condomz… Select one and Die," and "Hey kids! You like horror? Sex? Freaks? Blood?...well Cum Inside." Marilyn said, "The front of the signs said something to sort of the provoke the crowd 'into bed with me' if you will. The back of the sign would say something that sort of made you question 'what did I get myself into?'. The signs were meant to be vulgar and uncensored, much like the truth of unprotected sex is."
Jordy Marilyn had a very clear message with this show: Be careful. "Don't close your eyes to this disease. To the young generation especially, we're all so young still and have our whole lives ahead of us." Jordy Marilyn expressed that Marilyn Manor is currently his only boyfriend, but her has learned to appreciate men for more than just their bodies. He wants us to be able to understand and share this sentiment.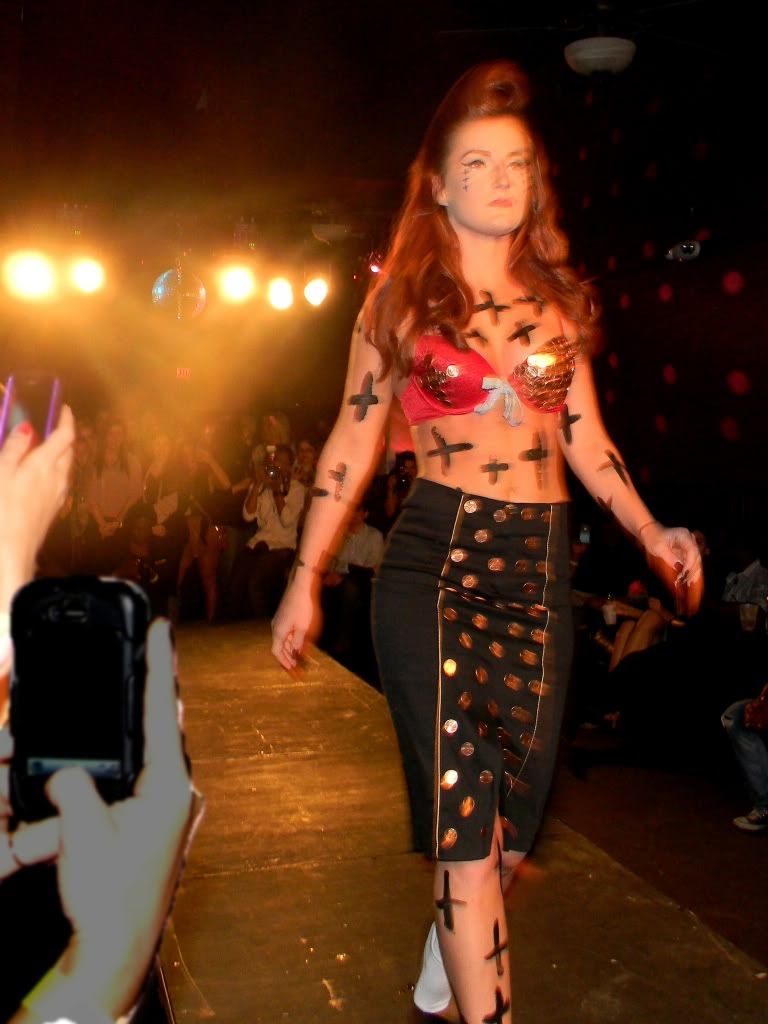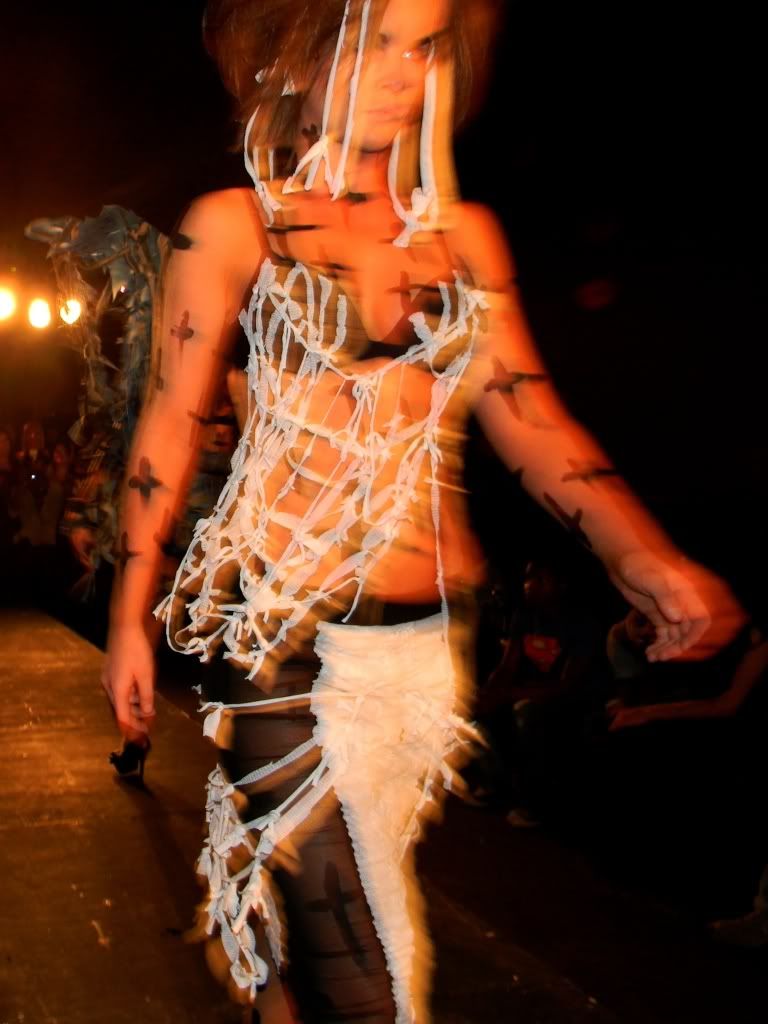 Jordy Marilyn sees the Lingerie Soiree fashion show as the cultural genesis for Marilyn Manor. Most people would take time to rest after such a big show, but Marilyn thinks otherwise. He spent the entire day after the showcase creating the blueprint of what is next for Marilyn Manor. "I started researching different literature to begin writing the manifesto for Marilyn Manor in collaboration with my best friend Lester Patin, who is an amazing writer. I'm such a fan of how powerful, humorous, lighthearted and yet soul baring all of his work is. So, I thought it would make sense to work with him on it."
Marilyn also just booked a photo shoot to begin working on his portfolio and he is already planning his next fashion show. "They will only get grander, more tasteless, and more ridiculous as time goes on; the one thing that will be constant is fearless fashion."
"Like" Marilyn Manor's Facebook Page to stay up to date with Jordy Marilyn's ventures.