Let me first say, this fashion show really exceeded my expetations. The models were beautiful. They came in all different shapes, sizes, and ethnicities. And, their swagger was amazing, definitely worthy of respect.
This event was held at Nicholls State University and put together by the Nicholls chapter of the NAACP and was sponsored by radio station Q93.3. The proceeds for this show went to Habitat for Humanity and the NAACP scholarship.
Did I mention that this wasn't your typical fashion show? When we entered, we were asked to buy a raffle ticket for a liquor basket. Yes, Please! Of course we will! Trey White and Niki from Q93 hosted the event, which honestly made me fall in love with Niki. She was a great, fun host.
All night, Niki and Trey White raffled off prizes. The most memorable was when they called up three people to dance-off for the secret prize. First, it was who can "dougie" the best. Then there were two. Bounce-off! They both
really
wanted that secret prize. The guy was busting out his best moves, and the girl was hut-hutin' for her life! There is only one way to win a bounce competition: backing it up like there is no tomorrow! Of course, she won. The poor girl lost her earring she was working it so hard.
In between, and sometimes, during walks there were live musical performances. Yes, I said
during
, and I should add in the middle of the runway mingling with the models. There was a lot of local musical talent from rappers (like Papi Dio and Scooter) to a boy band (Image Music) who sang great a Capella. The models came out one by one displaying fashion from local stores, local designers, and even students. Most of the styles and outfits featured were both cute and wearable or sexy and fun. The models confidently struck a pose and walked the runway with their individual swagger. They didn't walk slow and stiff, but with style and attitude. They would sometimes give each other high-fives or act out something like "boy chases girl, girl says get lost," while on the run-way. Each model had a unique look. Everywhere from thin and tall to curvaceous. I loved this! It was literally every healthy body type there is in one show. I saw long legs, sexy thick legs, hour- glass, apple bottom, etc. They all had something about them, even the men, that made them beautiful. Which fits perfectly with the title of the show, "Respect my Swag."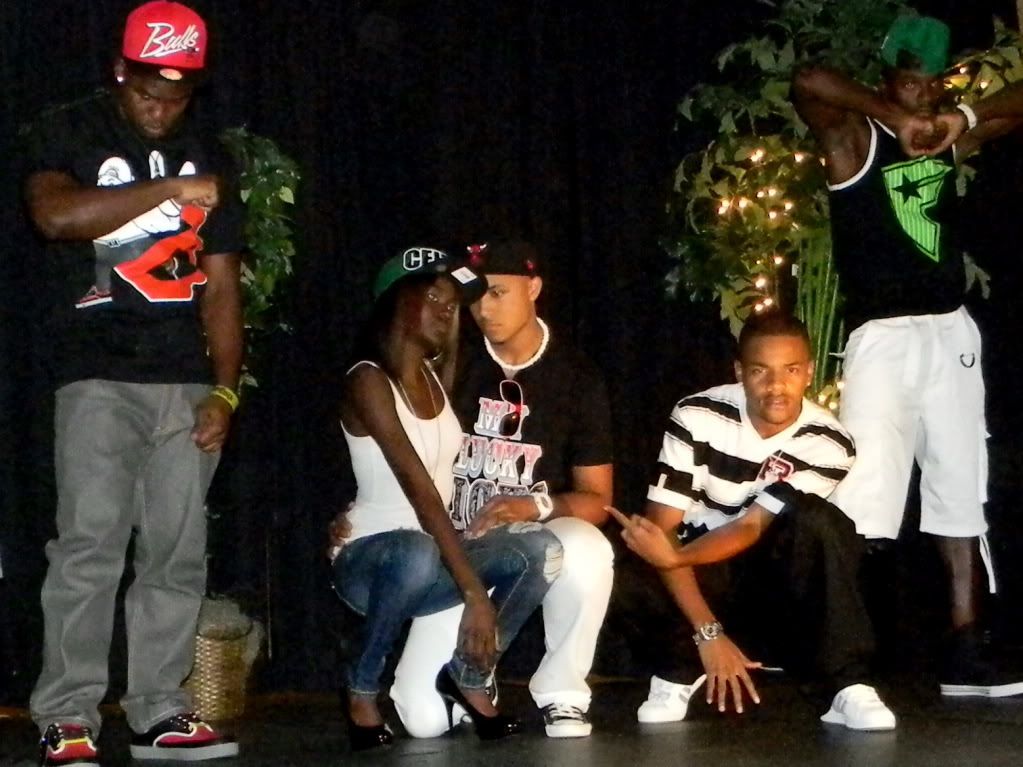 I was very impressed with this event. I feel it goes with what we here at the Wearhouse District love: confidence, good causes, liquor baskets... and oh, yes! bounce. PLUS it was at a school which only makes it better.
During the intermission, there were various booths set up for the different designers, stores, and charities/ organizations. Over 200 people came, and the event raised more than $1100.