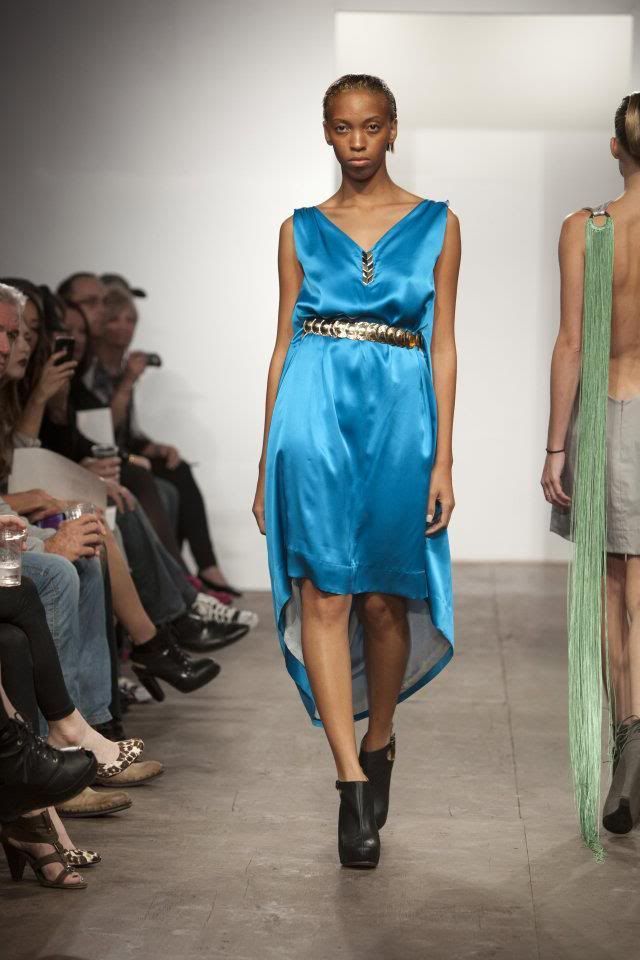 When it comes to Spring 2012 trends, there will most likely be a return of color blocking and busy prints. But, the major trends will be metallics, pale hues, and futuristic styles. These trends were certainly represented at NOLAFW.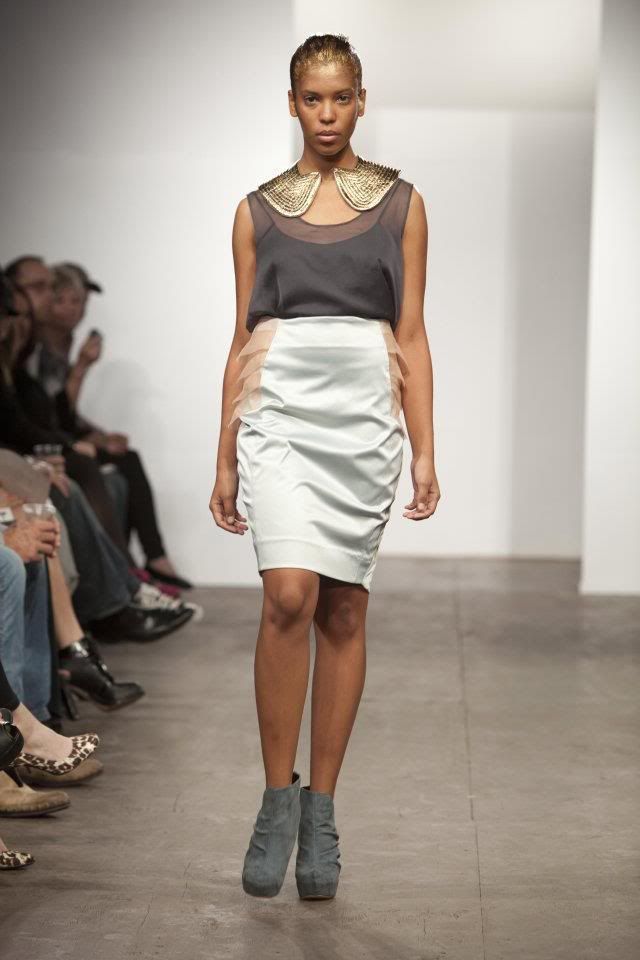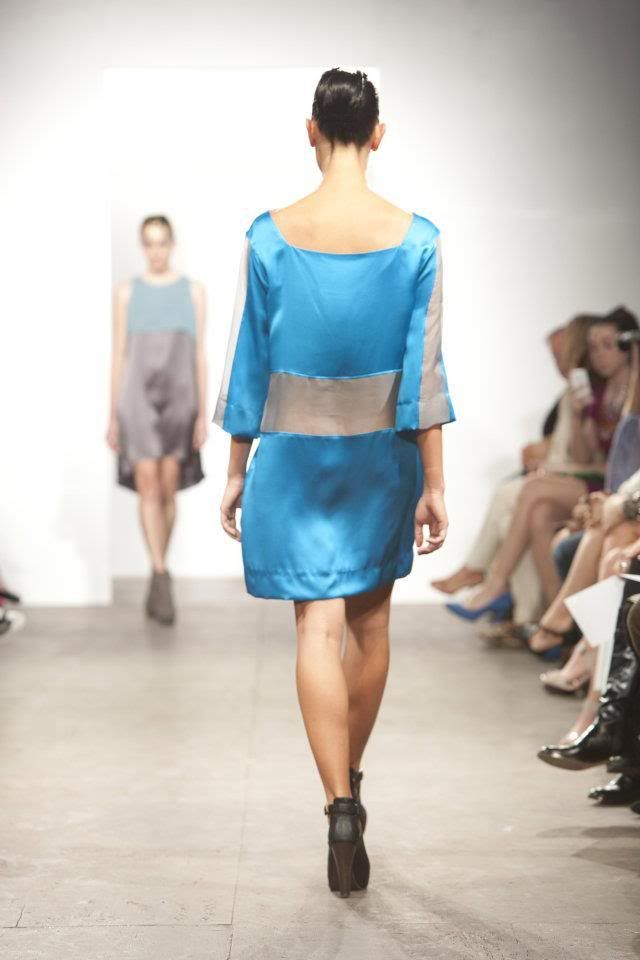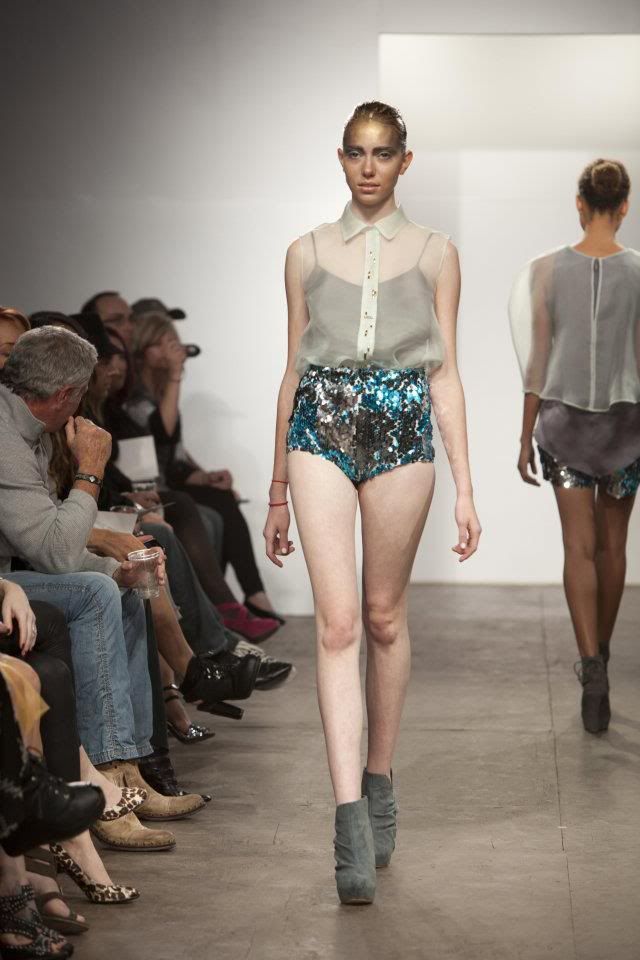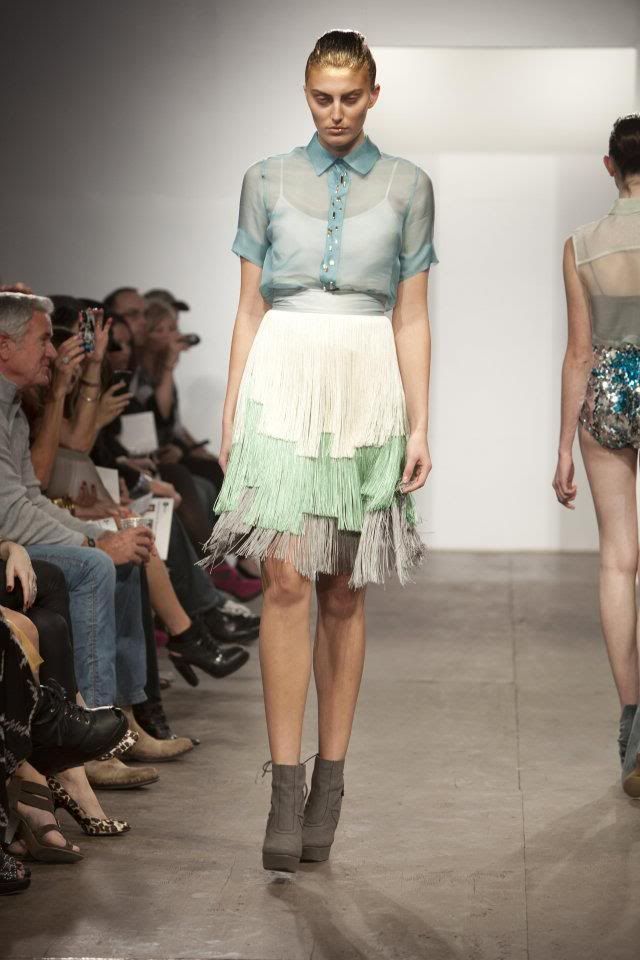 By drawing inspiration from digital communication and water - two things that connect all people, Amanda deLeon took the futuristic and metallic trend to a new level.
We love the leather work seen in her fall collection. This season our love for Amanda deLeon's designs grew even greater with the use of sequins and tassels. This collection proved her range. She was able to bring her edgy style and merge it flawlessly with summer and spring colors, materials, and structures. She continues to show architecture in her work. Some pieces you wonder how did she even make that? She is amazing at working with her materials.
Her explanation of her collection was beautiful, so it is easy to see she views her work as art. Fashion is art, and Fashion is expression. We communicate something about who we are through fashion, and deLeon clearly understands this.
"It is an idea that through both water and technology alike we all belong. We are all connected. The world becomes smaller. It is not I; it is we. It is not mine; it is ours." –Amanda deLeon
Fashion makes the world smaller, too. This is actually a huge part of The WearHouse District's philosophy. We feel like we may have something in common with her because it's possible we share the same beliefs. And, the fact that her collection communicated this perfectly is something we most certainly appreciate.
Her use of sequin worked and gave her looks amazing fluid motion like the flow of water by using the sequins with long, beautiful tassels. And, there were deep, pure hues of aqua and blue throughout the collection. Accents of gold and other metallics as well as the organza cut-outs on the back of her dresses respectively gave tribute to screens, digital devices and electric wiring.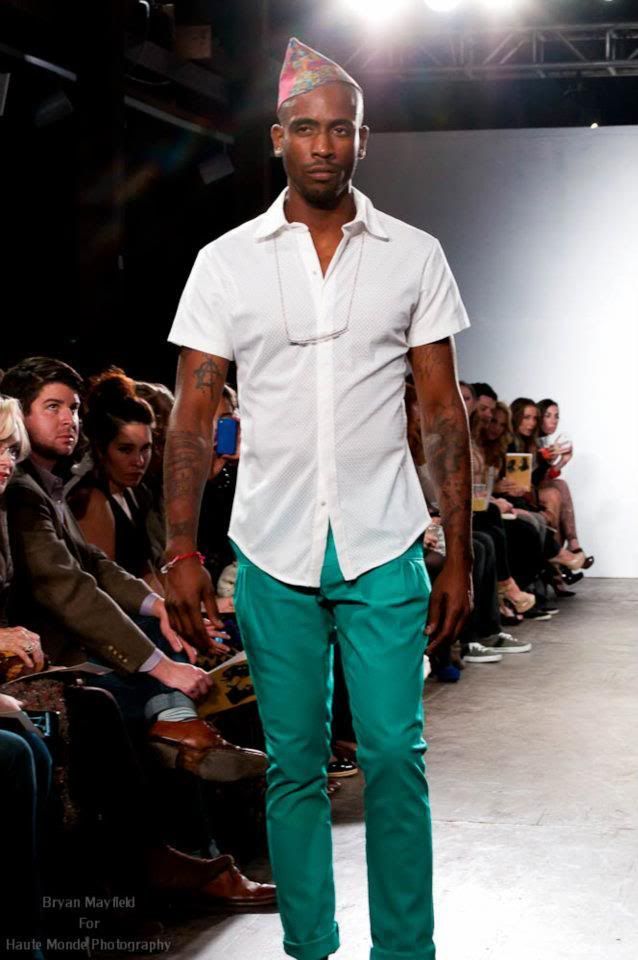 [Veronica's favorite look; Dalton's favorite look]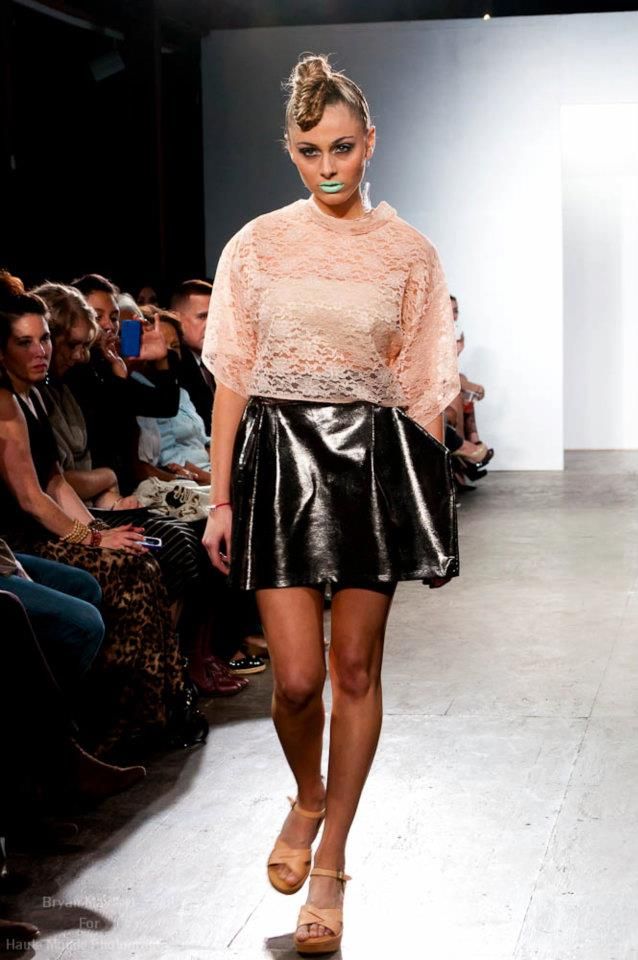 [Matthew Arthur's fun, club-girl looks]
Matthew Arthur's geometric shapes and pointed silhouettes also respected the futuristic trend quite well. He also featured awesome use of metallics and pale hues.
Something that is rare, especially with self-taught designers, is finding someone that can execute unique, interesting menswear that is also very well produced. Matthew Arthur not only accomplished this, but blew all other streetwear collections out of the water.
His color pallet, exciting prints, and brave use of mesh took menswear into a whole new realm that has only been seen in collections from designers like Marc Jacobs. The length, cut and fit of the mens's shorts was perfect. The sailor hats and subtle maritime theme was fun.
His women's streetwear was young, and lively. His pointed, metallic skirts and lace tops were so exciting and fun. The geometric pieces shown on the runway had the right amount of uniqueness and wearability. His work is undeniably good. He took risks and they were awesome.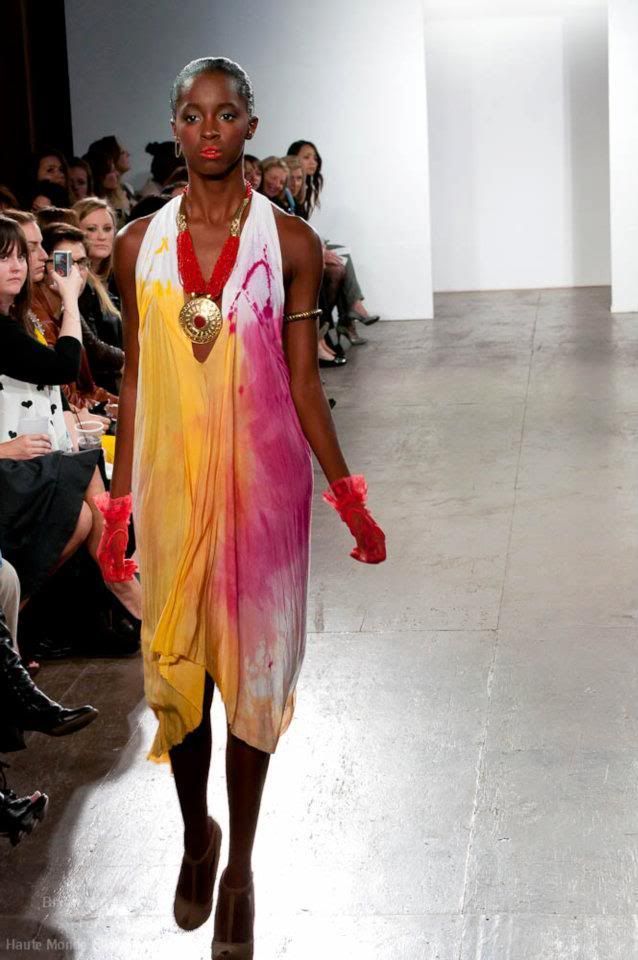 Rogersliu attempted the futuristic trend. The collection had strong looks, but lacked when it came to precision. Many pieces were still a bit rough around the edges.
Many tops were sheer and rather revealing. All of their models had pasties covering their nipples. But, the one that does not has an automatic wardrobe malfunction. This may seem that if you plan on wearing any of our clothes from this collection you have to wear something on your nipple because it will pop out. Most likely buyers will question the pieces' ability to be worn.
Rogersliu showed many pieces with splatter paint effects and had dyed the bottoms of their long, white dresses with the bright colors seen throughout the collection. This was fun and different, but was not executed properly. These details made some garments look sloppy, and may make reproduction harder.
This collection looked as if they had half of the collection ready, and the day before they producers told them they must have a whole collection, and they did not make it work. Half of the collection looked like they bought sheets and v-neck shirts, splattered paint, and glued on the pieces. The most upsetting thing about this collection is if you look at their previous work it is absolutely beautiful. Where was that skill for this collection?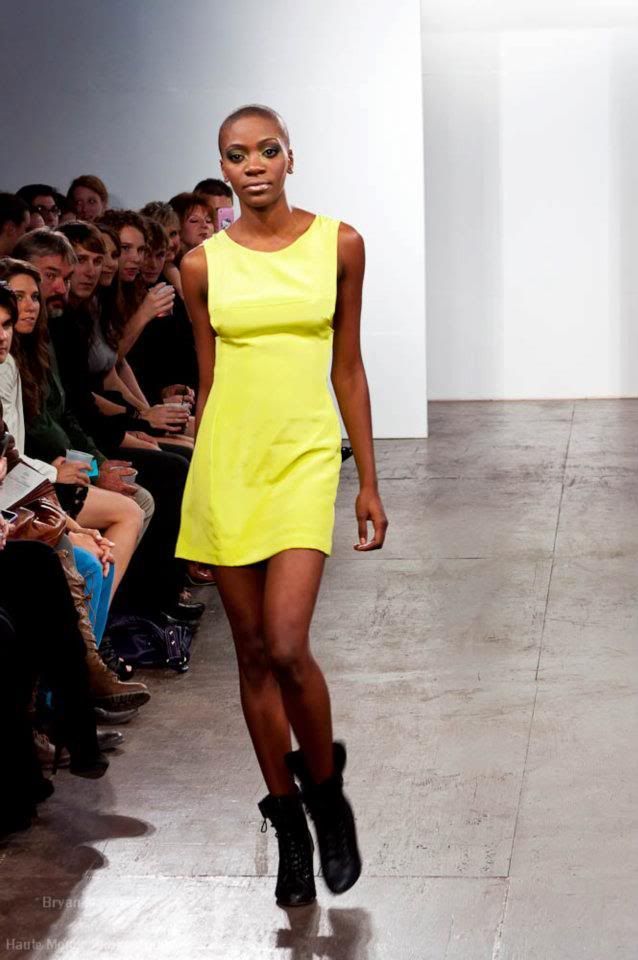 [Veronica's favorite look; Dalton's favorite look]
Ashlie Ming's Blackout collection did not follow too many trends, but for a debut show, this was not too bad. This collection was very wearable. Bright, electric colors and exposed skin gave the collection a warm summer feel. But, the looks also had a bold, modern edge when it came to the silhouettes shown.
Ming took a risk using light-weight material like silks and cottons for her timeless silhouettes, but she pulled it off with amazing use of ties and cinching.
It was also risky because she focused on black for spring and summer, but it was a risk worth taking.
The contrast between the bright greens and blacks in the looks shown definitely added to the collections boldness. The pieces were simple, yet sexy. These details are what will make the pieces in this collection easily transfer from day to night, which seems to be the designer's ultimate goal for this season's collection.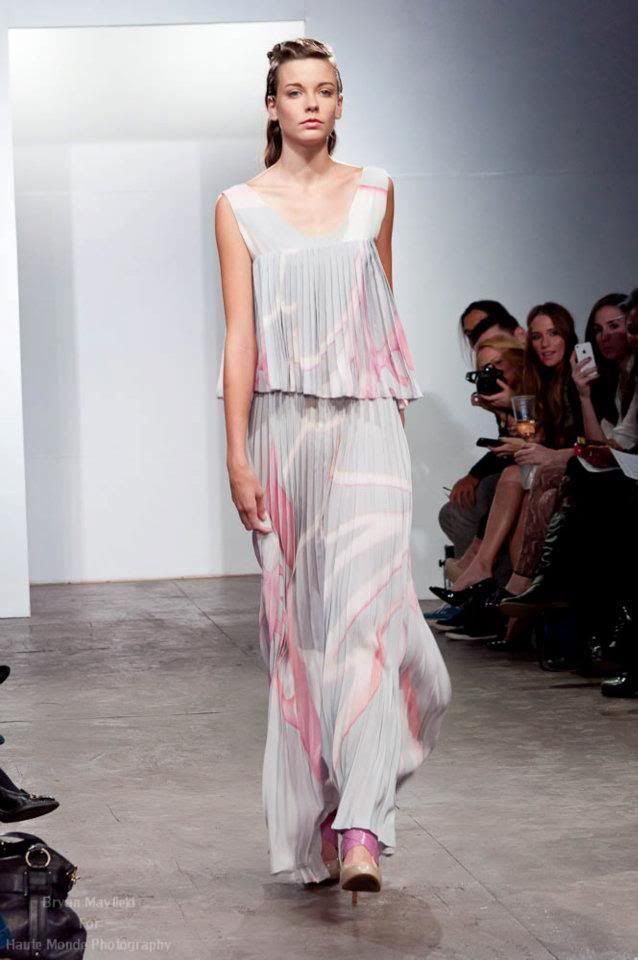 [
Dalton's favorite look
- but, it certainly doesn't stay consistent with the rest of the collection;
The Print]
Varela and Brooks Spring collection was soft, flowy, natural, and definitely used the pale hue trend. The looks showed off their attention to detail through the pleating on their long dresses and the accents of horizontal pleating featured on the front and backs of their tops. Their pleating work was really amazing.
The cut-outs on the arms of their pieces were a great detail for a spring collection. This gave the looks a feminine feel, and still kept it very sophisticated. This is probably a good thing for them because we feel they are trying to sell to more of a sophisticated group of New Orleans woman.
We were very disappointed to see the same light blue and pink, coral-reef-like print that was in their last collection. It certainly works much better in a Spring/Summer collection, but we were already bored with it. The designers must be trying to make this there signature print, which is always a huge risk to take unless the design's colors can be manipulated easily and transfer to different materials to fit different seasons and trends.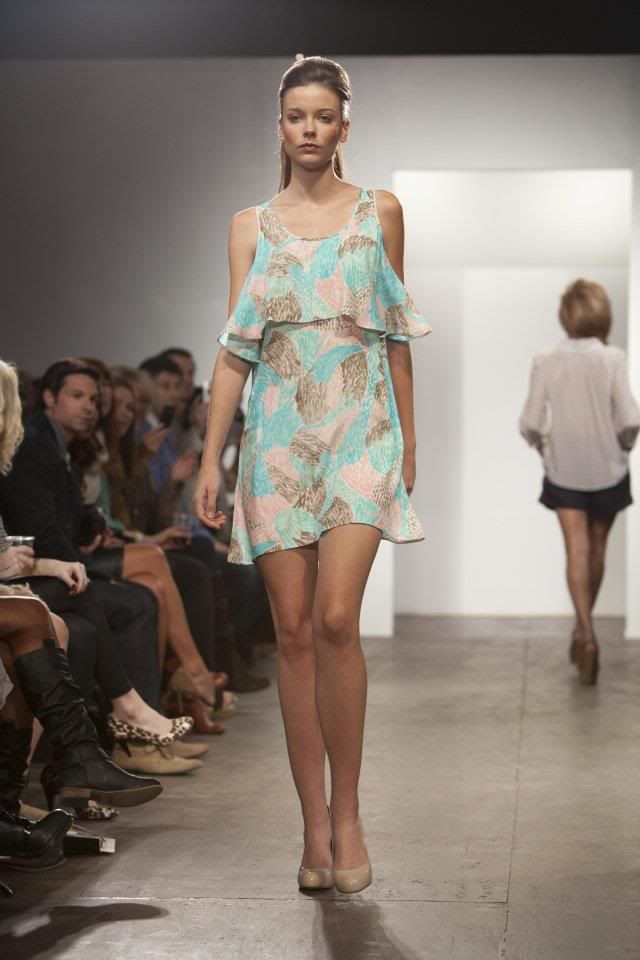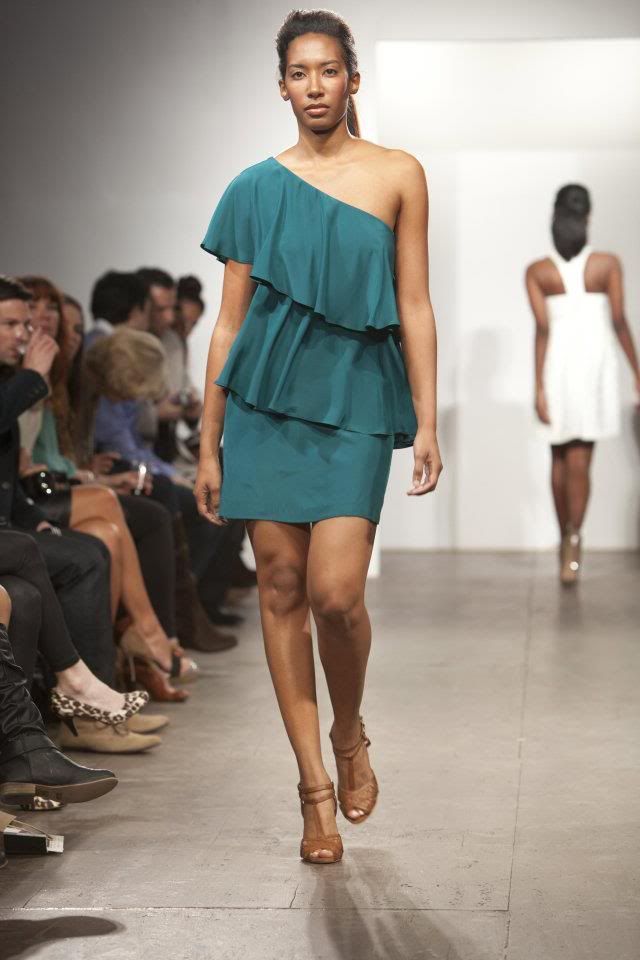 Annie Griffin's collection could possibly be considered one of the most underrated collections. There was not much hype about it, yet she surprised us. Her use of prints was amazing. Each print was beautiful. The back of the her dresses were fantastic. The exposed zippers added a masculine, modern feel to very girly-styled dresses. It was the little details in each piece that made the collection pretty great.
Jolie and Elizabeth's collection was possible the most overrated. It was very safe, but this is not a surprise. The designers always stay pretty safe. They certainly took full advantage of the pale color trend because it took up most of their pallet. Overall, the collection was just too much of the same looks, materials, and colors. They may have even shown the same dress multiple times.
This collection is very wearable for Louisiana residents because it is very southern belle. But, we were not impressed with the fit or the material. The amount of seersucker shown was a little over the top. And, this is the second season in a row that they had models walk in poorly fitted clothing. Some pieces looked liked track shorts… maybe they were track shorts.
We don't know if we agree with what they do, but people love them. The hype for this show was insane.