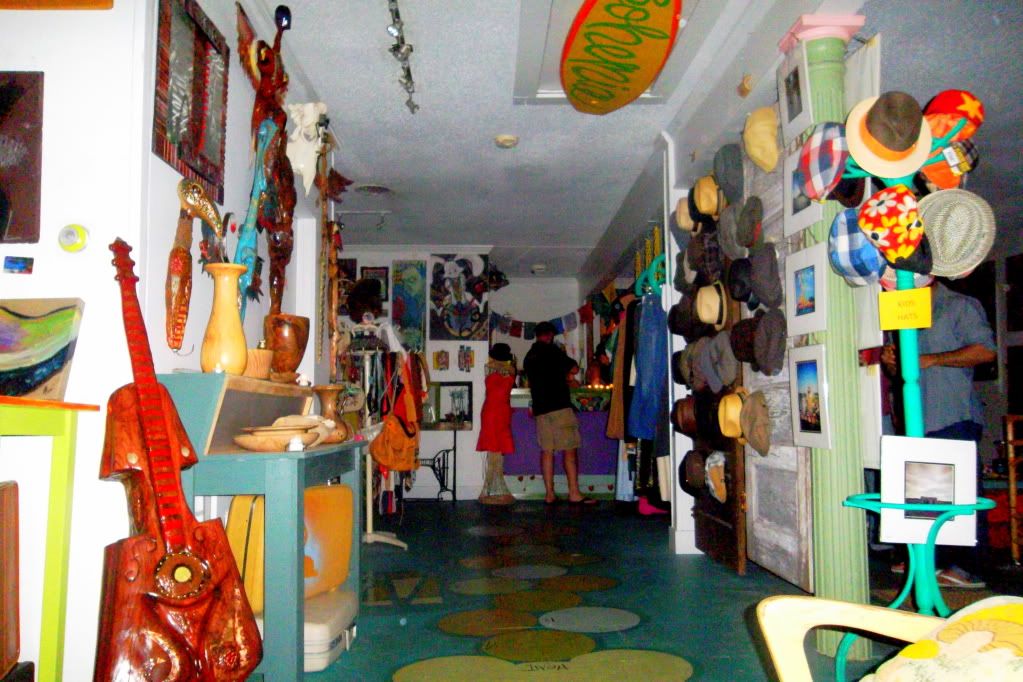 [by Nadezhda Sharnelle]
8:05 pm was my arrival time at the Gallery Bohemia (Baton Rouge, LA). Once I walked in, I discovered a mixture of bright lights, good music, unique lounge décor and loads of fascinating artwork created by some of our finest local artists.
Art lovers and shoppers alike were plentiful. Some made purchases and others simply came to socialize. But through the mist of it all, there was only one figure that caught my eye. Dressed in torn tights and one of his showcase pieces, it was the spotlight artist of the night Jordy Marilyn enlightening some of his new followers with conversation.
This was Jordy's second showing of his Marilyn Manor tees at the Gallery Bohemia. Not only did the tees sell out at the first showing, but also Jordy had no choice but to create an order list for new fans in between showings.
[Jordy Marilyn displaying the Baptism Collection]
Once Jordy Marilyn gotten a free moment from photos and chatting up potential clients, I was able to get in a little Q & A:
So Jordy what's the name of your collection and what's its representation?
It's called The Baptism Collection. It represents the three fabrics that saved my life: leather, leopard and lace. I call it the Baptism Collection because much like a biblical baptism they represent a new beginning and the production of these tees is never-ending, which also mirrors the definition of baptism.
So how did the name Marilyn Manor come about?
I chose the name Marilyn Manor because there have only been two iconic Marilyns that I acknowledge. That's Marilyn Monroe and Marilyn Manson. And then the term manor came from the fact that a lot of corporations in the fashion industry and fashion labels have "house" in them and I wanted to set myself apart from contemporary. So I decided to call it manor, instead of house…. Manors are bigger than houses and I can house a lot more for the rejects of fashion… people that are misfits. I can house more and make it an institution…a "manor" and it's perfect because it's two "m's"…. (Jordy gets up to have a drink, a cig and catches up with a friend. And then, he makes his way back….)
This is your intro. So what's next for Jordy Marilyn and Marilyn Manor?
This is a segway, a beginning of what I'm about to do in the fashion world…what I'm about to do in the art world. It's the start of what's to come. The second installment I'm gonna do is right after the Baptism in that which never ends. The Baptism collection is made up of t-shirts that I will never stop producing. I want it to be ever growing and never-ending. So the second installation is what comes after that. Next I have a fashion show that I'm planning for in September in co- production with Kelly (Bohemia's owner) and Gallery Bohemia. And I also plan on scaring the shit out of everybody in Louisiana with what I put on!
Be on the look out world. Jordy Marilyn is ready to take it over.