[Dalton and Veronica; photographer Bryan Mayfield]
The fashion week preview party hosted by NLE, Nicholas Landry Events was held at a great location called the Eiffel Society on St. Charles Ave in the lovely Garden District of New Orleans on Saturday August 27, 2011.
It was a nice touch to arrive and to not have to worry about parking with the provided complimentary valet. Inside this fantastic building was a really great atmosphere with great decor and music. DJ Beat Grrl opened up the night, but the party felt like it really got started when Baby Bee began to play live. As they performed, you could see the silhouette of the models getting ready backstage, which was a great idea. My only complaint is that they started the preview during Baby Bee's performance, instead of making the preview the center of attention or the main event; it was off to the side. Also, unfortunately, they did not announce the designers or anything about the preview; they projected their names.
[Baby Bee]
The designers for this season's Fashion Week are Matthew Arthur, Jolie and Elizabeth, Amanda deLeon, Blackout, Varela and Brooks, and Rogersliu. Some of the designs I was not too impressed with which makes me hope that the designers have better to offer for the show. But on the other hand, some of the designs were absolutely fantastic! They were original, eye-catching, and beautiful. It is good to see some familiar talent and it is exciting to see some new designers arriving to the scene. From this preview, I think we have a lot to look forward to from our local designers for NOLA Fashion Week (October 15-21,2011).
[Designer Amanda deLeon, and her photographer hubby Kevin]
[Matthew Arthur (left), Nick Landry (right)]
After the preview, the party continued and the guests danced the night away with awesome music from DJ Lemonhead. I don't drink; but, according to Dalton the drinks from Dallas Ray, Eiffel's mixologist, were absolutely incredible. The only complaint for this is the bar was packed and it was nearly impossible to get another fabulous drink, so we actually gave up and continued to dance. Apparently though, people were getting drinks because by the end of the night the other guest started getting messy. When we decided to leave, it was not a problem because the valet promptly got my car back to me. Let me mention he was listening to Bounce; I thought that was great. Overall it was a good experience. I am definitely looking forward to NOLA Fashion Week (October 15-21, 2011).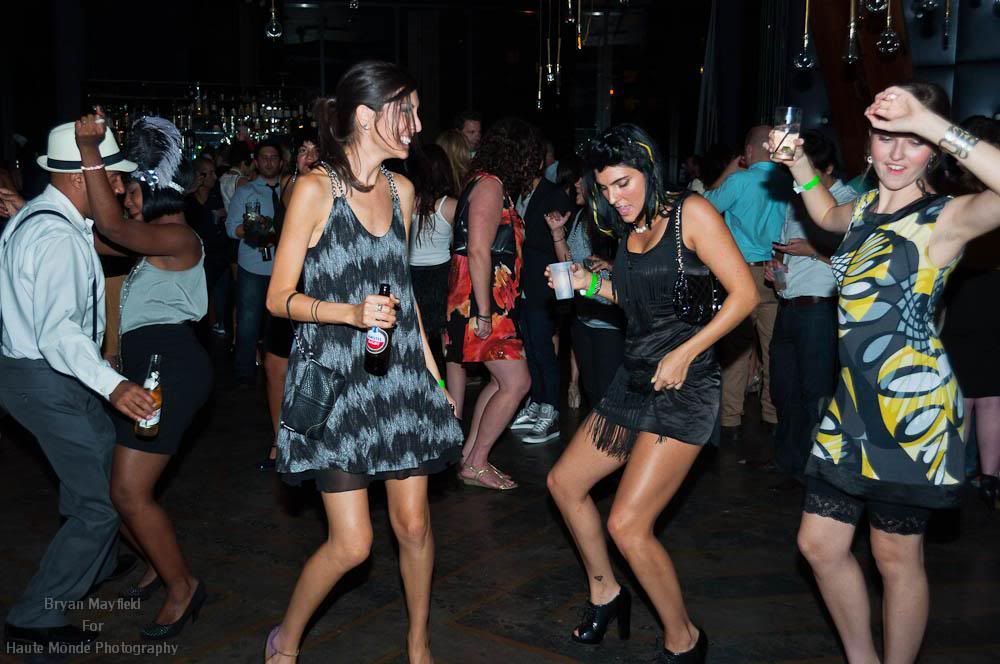 This event gets 4 disco balls.